[Focus] The market of anti ED drugs has broken through 10 billion, and Ginger and Viagra share equally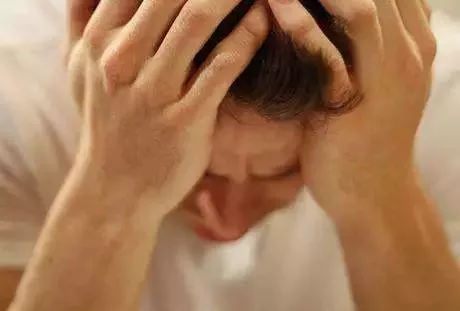 Recently, sildenafil citrate tablets developed by Changshan Pharmaceutical Co., Ltd. have been officially approved for production registration by the State Food and Drug Administration (CFDA). Since Pfizer's Viagra entered the country in 1998, there have been three domestic sildenafil preparations, namely Jinge of Guangzhou Baiyunshan Pharmaceutical, Wanfeile of Jiangsu Yabang Epson/Pharmaceutical, and Wanyeqiang of Hebei Changshan Biochemical Pharmaceutical. Its main purpose is to treat ED (erectile dysfunction) and make contributions to the human liberation movement.
Driven by the aging of the global population, and under the pressure of modern work and life, the number of ED patients shows a trend of increasing year by year. According to the data of the World Health Organization, about 10% of the world's men have erectile dysfunction. Only 18 million people have erectile dysfunction in the United States. The peak annual sales of Pfizer Viagra exceed 2 billion dollars; From 2001 to 2016, it has achieved a performance of US $28.5 billion.
With the progress of human beings and the development of science, China has put four diseases unique to human males on the agenda. Among them, sexual dysfunction is the second largest disease after prostate disease, in addition to male infertility and sexually transmitted diseases. The latest statistical data in 2016 shows that the prevalence of ED among people over 40 years old in China is 46.2%; 56% of the patients aged 30-50 years; Therefore, the field of ED treatment has become a very attractive market. According to the Blue Book of China's Six Major End use Drug Markets, China's anti ED market has exceeded 10 billion yuan in the five years from 2012 to 2016, reaching 11.028 billion yuan, with an average annual growth rate of 28.80%.
The retail market of prescription drugs became popular
There are more than one hundred million men with erectile dysfunction of different degrees in China, which is basically similar to the incidence of diabetes. The most knotty is that the treatment rate is less than 8%. In the process of dealing with personal ED, patients tend to let nature take its course or adopt self treatment. Many patients fail to accept standardized drugs in a timely and reasonable manner, and the huge market needs to be expanded. Another feature is that self medication accounts for more than 80%. Therefore, under the situation that the sales volume of the hospital market is only tens of millions of yuan, the retail market of pharmacy has increased more than 40 times.
The data shows that the market sales scale of anti ED drugs in China reached 3.595 billion yuan in 2016, an increase of 26.41% over the previous year; Among them, the domestic public hospital system is only about 100 million yuan. Since this kind of medicine has not been listed in the Medical Insurance Catalogue, the hospital market is only the tip of the iceberg. The vast market comes from the retail terminal of pharmacy. Its main varieties are sildenafil, tadalafil and vardenafil. The dosage of apomorphine hydrochloride sublingual tablets, prostaglandin E1 cream, testosterone patch and dapoxetine was less. Driven by domestic sildenafil, it is estimated that the sales volume of domestic anti ED chemicals will reach 4.5 billion in 2017.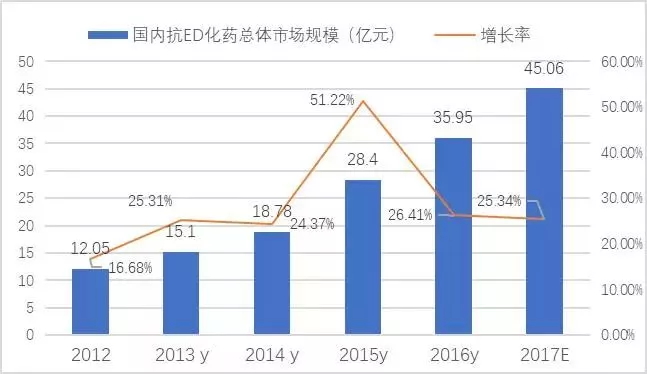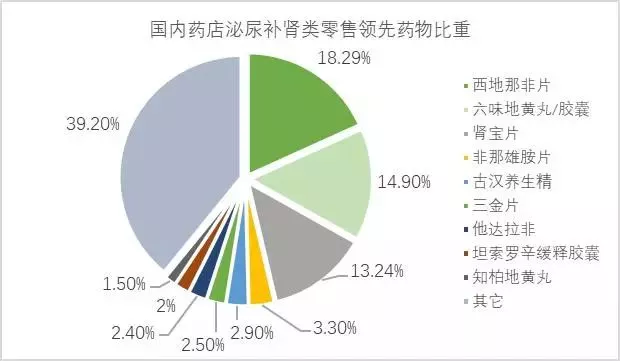 Ginge and Viagra in drugstore share equally
As we all know, retail pharmacies are an important part of the medical front, especially playing a pivotal role in OTC and OTC dual drug terminals. It provides a good hotbed for ED resistant sildenafil. After Pfizer's Viagra entered the Chinese market, it has already felt its pulse and carried out a lot of activities. But first, because the price of Viagra is too high, and second, people's spending on this is still at a loss stage.
In 2014, Guangzhou Baiyunshan Pharmaceutical broke the monopoly of foreign-funded enterprises on China's ED market after its Jinge listing. The packaging specifications and pricing of Ginger are suitable for the national conditions. On the other hand, people's expenditure on health care has also changed dramatically. With the promotion of Pfizer's Viagra and domestic Ginger, the situation that Viagra cannot speak out has changed.
In 2016, the sales of sildenafil citrate tablets in retail pharmacies reached a market scale of 2.42 billion yuan, with a year-on-year growth of 50.78%; This is nearly 7 percentage points higher than the previous year. Among them, Pfizer's Viagra accounted for 60%, and Guangzhou Baiyunshan's Ginger Express accounted for 40% of the market share.
At present, according to the data of the first three quarters of 2017, it is estimated that the sales of sildenafil citrate tablets in retail pharmacies will reach a market scale of 2.886 billion yuan in 2017, with a growth rate of nearly 20% compared with the previous year. After Baiyunshan Jinge became the second major variety of Guangzhou Pharmaceutical Baiyunshan, this year Jinge continues to advance by leaps and bounds, with a total sales target of 1.8 billion yuan.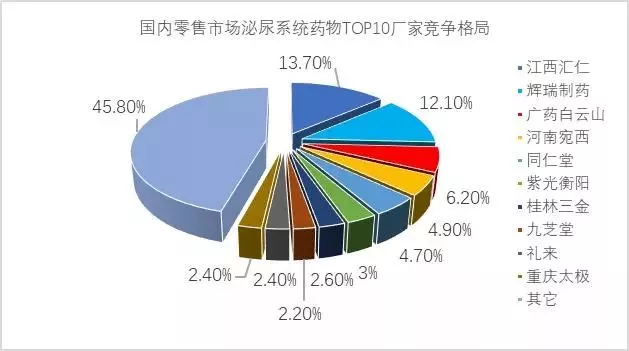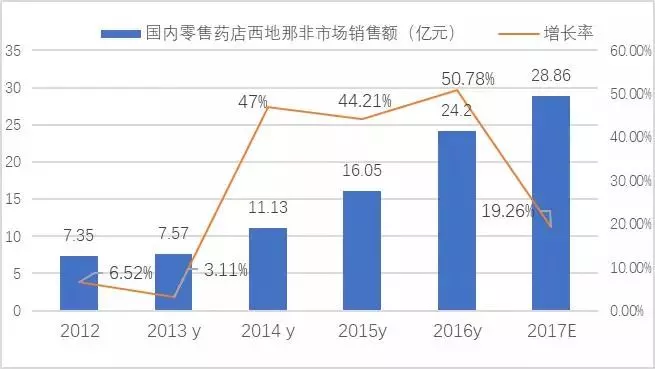 A mixture of Chinese and Western cultures
In 2016, thanks to the outstanding contribution of Ginger, the domestic anti ED market reached 3.595 billion yuan, an increase of 26.66% over the previous year's 2.84 billion yuan. In the anti ED market, Tadalafil is one of the top 10 retail drugs for urinary and kidney tonifying in domestic pharmacies, ranking eighth.
Tadalafil is a drug jointly developed by Lilly and Icos, and its trade name is Cialis. Xieli is characterized by a long half-life, up to 36 hours of efficacy, strong safety and cost-effective; At the same time, it has received treatment for male ED with benign prostatic hyperplasia, which has driven the market growth; In 2016, the global sales volume of Greely was 2.472 billion US dollars, with a year-on-year growth rate of 6.97%; In the first half of 2017, it still achieved a performance of $1.161 billion.
Xieli is listed in China for exclusive operation, and has also won praise. Data shows that Xieli accounted for 14.7% of the market for ED drugs in 2015. In 2016, the sales volume of Xieli tablets in retail pharmacies will reach 318 million yuan. It is estimated that the sales volume of Xieli tablets in retail pharmacies will reach 365 million yuan in 2017, with a year-on-year growth rate of 14.78%.
Among them, Chinese patent medicines have played an important role in the market of tonifying kidney and strengthening yang. Among them, Shenbao tablets, Liuwei Dihuang pills, capsules, Guhan Health Preserving Essence, Zhibai Dihuang pills, etc. are also among the top 10 varieties of urology and kidney tonifying retail drugs in domestic pharmacies. Among the top 10 manufacturers in the retail of urology and kidney tonics in domestic pharmacies, the top five are Jiangxi Huiren Pharmaceutical, Pfizer Pharmaceutical, Guangzhou Pharmaceutical Baiyunshan, Tongrentang and Henan Wanxi Pharmaceutical.
Author Profile
Cai Deshan, senior engineer, senior researcher of pharmaceutical market information. He is now a senior consultant of Beijing Jialin Pharmaceutical Co., Ltd. 45 years of enterprise management experience in the chemical pharmaceutical industry.
key word: [Focus] The market of anti ED drugs has broken through 10 billion, and Ginger and Viagra share equally